HJC HELMETS MOTORRAD GRAND PRIX DEUTSCHLAND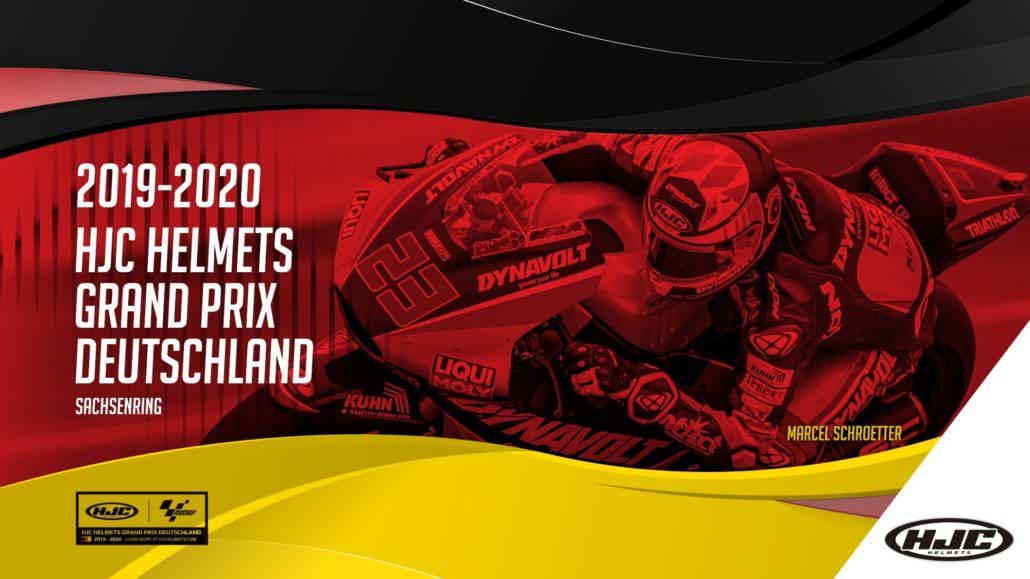 HJC HELMETS RACES TO GERMANY FOR THE 2019~2020 HJC HELMETS MOTORRAD GRAND PRIX DEUTSCHLAND
HJC Helmets announces its title sponsorship of the 2019~2020 German GP.
Over the past 3 years, HJC has been heavily involved in MotoGP racing as the title sponsor of the 2016 Grand Prix České republiky, the 2017 Grand Prix de France, and the 2018 Grand Prix de France. HJC is the first helmet company to title the sponsorship of a MotoGP calendar race event.
The previous HJC Grand Prix races have had great success. The HJC team appreciates their sponsored motorcycle racers, race fans, loyal customers, as well as a great partnership with Dorna, for a combined effort to create such fantastic events.
HJC Helmets wanted to continue to support the highest level of motorcycle racing while expanding their global presence, so an executive decision was made to move their support to Sachsenring in Germany.
"Here at HJC Helmets, we are huge fans of motorcycle racing. Between the constant sound of motorcycle engines and the racing community in the paddock and the stands, nothing compares to the experience that we get at the track. The passion for motorcycle racing is contagious, spreading from the racers, to the fans, and to the sponsors involved like our company; this is what we love to be a part of. It is our privilege to give back to the industry through MotoGP since the sport does so much to promote motorcycle riding around the world. We look forward to our commitment in Germany." Mr. W.K. Hong, Founder & CEO, HJC Helmets
The HJC Helmets Motorrad Grand Prix Deutschland will take place at Sachsenring, a world-renowned race track located in the heart of motorsports, on July 7th, 2019.