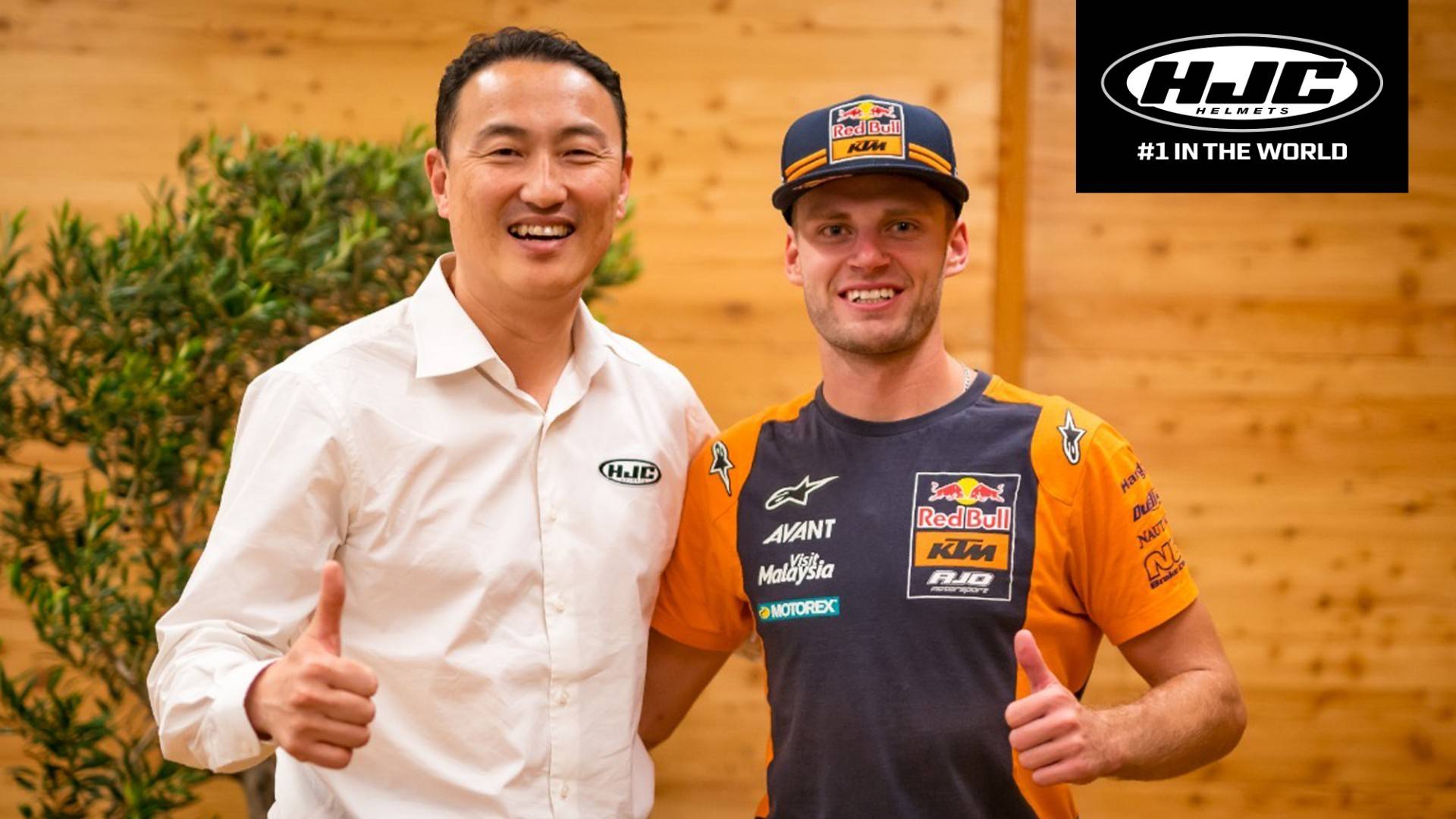 MotoGP will see a new face sporting HJC next year as HJC Helmets announces BRAD BINDER's official helmet sponsorship for the 2020 MotoGP racing season. The South African rider is fast entering the premier class with Red Bull KTM Factory Racing.
BINDER started his Grand Prix career as a competitor in the 2011 Red Bull MotoGP Rookies Cup. The following season he entered Moto 3 and for several years established himself as a dominant force on the track before claiming the 2016 Moto 3 World Champion. After three years of Moto2 and impressive wins, BINDER's dream came true as he secured a spot on the 2020 MotoGP grid.
Although this is BINDER's first year wearing HJC, this season won't be the first year they've celebrated on the podium together. The riders took second place in the 2019 German HJC Helmet Grand Prix competition, and there are high hopes for more award ceremony celebrations in the 2020 season.
2019 Red Blue Kiss Cup champion CALROS TATAY will also join the HJC family in 2020 alongside HJC rider ALBERT ARENAS in Moto 3. At Moto2, HJC is proud to represent the brand with new HJC rider BO BENDSNIDER, JOE ROBERT, MARCEL SCHROTTER, JORGE NAVARRO, MARCOS RAMIREZ 2015 Rookies Cup Champions. MotoGP riders ANDREA IANNONE and CAL CRUTCHLOW round out the HJC lineup this season, continuing HJC as Official Helmet Sponsor. HJC is excited to continue supporting GARRETT GERLOFF as he moves from Moto America to the World Superbike Championship in 2020.
With these new additions to HJC's family of MotoGP, Moto2 and Moto3 constant GP rider and World Superbike's Gerloff, 2020 is sure to be a great year for HJC.