JONAS FOLGER'S HJC HOMECOMING!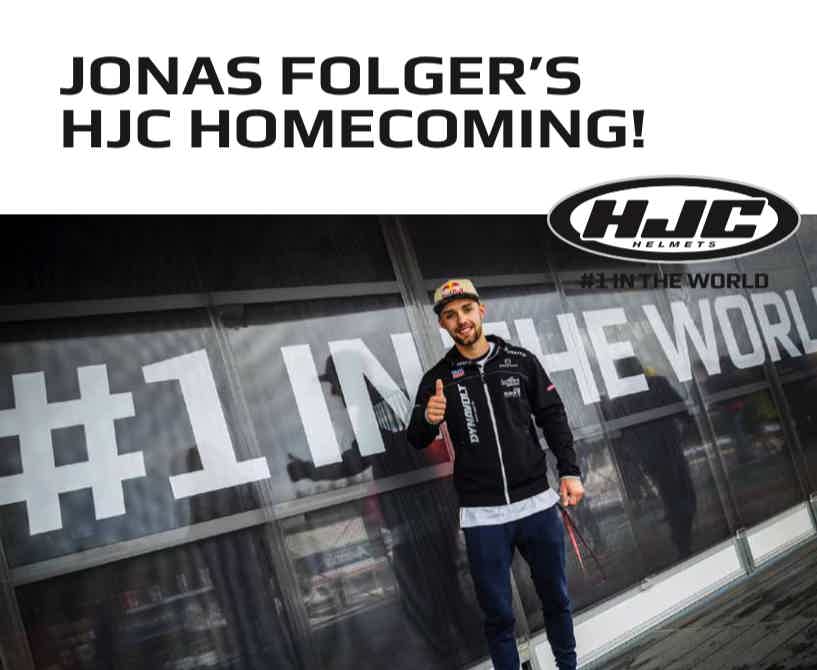 HJC Helmets is pleased to welcome Jonas Folger back to the HJC Family! After the German racer rode for HJC helmets in Moto3 in 2012, Jonas will partner up with HJC again in 2017 to race for Monster Yamaha Tech 3 Team in MotoGP Class.
Jonas Folger's World Championship career started in the 125cc class in 2008. His breakthrough came in 2011 when riding for the Red Bull KTM Ajo team, he took his first Moto3 win. In 2013 Jonas finished fifth in the Moto3 championship and moved up to Moto2 in 2014 where he picked up two podiums. Jonas got his first win of the year at HJC's first Title Sponsor MotoGP event, HJC Helmets Grand Prix Ceske Republiky.
"We are extremely excited about the 2017 MotoGP Championship as Jonas will be competing with our new RPHA 11 race helmet. HJC Helmets has a proud history of racing with a number of Championship Titles won by our riders around the world including multiple AMA SBK Championships, WSBK Championship and 2015
MotoGP Championship. We expect our heritage of winning races and Championships to continue with a young bright star in Jonas. Not only Jonas is fast on the track but we know from experience he will also be a great ambassador to our brand. We welcome Jonas back to HJC family with open arms" declared SJ Hong, President of HJC Helmets.
"I am very pleased to be coming back to HJC Helmets. In racing, we rely on the best equipment to perform at the highest level. I know HJC is a leader in the helmet industry with 45 years of helmet engineering experience and I have complete trust in the brand. I look forward to embracing the next chapter of my career when I take the step up to MotoGP in the Valencia test to ride with my new RPHA 11" commented Jonas Folger.
We look forward to an exciting 2017 MotoGP season with HJC's new young rider, Jonas Folger!