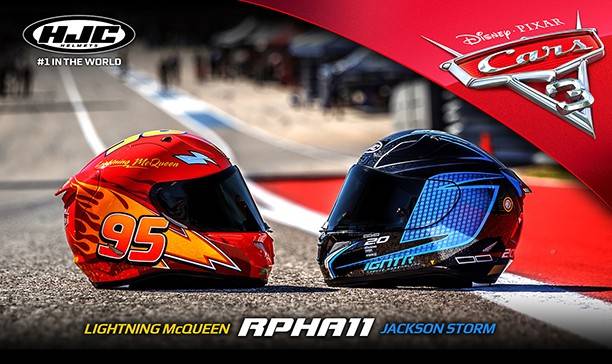 You may have thought that you've seen it all, but HJC's newest graphics will surely stand out. With the release of Disney•Pixar's Cars 3 this summer, HJC presents the fastest motorcycle graphic to hit the streets.
Lightning McQueen is a favorite character among motorsport enthusiasts. The RPHA 11 Lightning McQueen is unmistakable with its bright red paint job that sports the #95. Yellow lightning bolts and team sponsors complete the animated racecar graphic. The graphic appears on the RPHA11 since it only made sense to feature a racing graphic on HJC's premium, race-design helmet.
In addition to Lightning McQueen, HJC will also release a Jackson Storm helmet. Jackson Storm is the poster child of the Next Generation elite racers, who will challenge Lightning McQueen's place in the racing world. Jackson Storm represents the peak of real-time technology and innovation, so HJC put a twist on the RPHA 11 and will present Jackson Storm on a carbon fiber shell. The helmet is sleek with deep blue accents, fast lines, and metallic flecks.
Watch for the debut of the Lightning McQueen and Jackson Storm RPHA 11 helmets at Le Mans during the HJC Helmets Grand Prix de France, May 19-21 and at Road America on June 2-4.
Cars 3 will be in theatres on June 16 and the helmets will be available September 2017 around the word at authorized HJC dealers.
Available in sizes XS-XXL. DOT/ECE approved.
Available in sizes XXS-XXL. ECE approved.
RPHA 11 Pro (DOT/ECE) Lightning McQueen $599.99
RPHA 11 (ECE) Lightning McQueen €599.90
RPHA 11 Pro (DOT/ECE) Jackson Storm (Carbon Fiber) $749.99
RPHA 11 (ECE) Jackson Storm €749.90