WELCOMES DEADPOOL & GHOST RIDER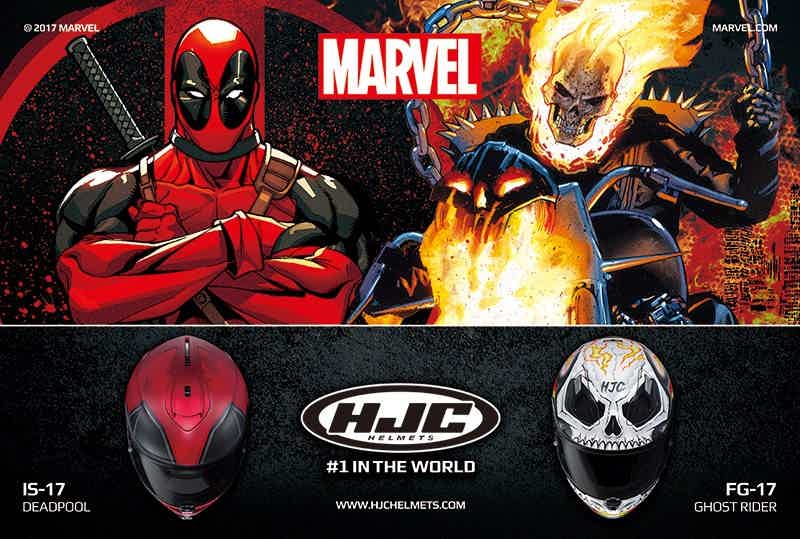 You asked so HJC listened; the character that has been requested over and over by riders and fans is finally here: Marvel's Deadpool. Along with the highly anticipated Deadpool graphic, HJC is also releasing Ghost Rider, a character that could not be overlooked in the motorcycle industry.
A textured, matte-red finish replicates Deadpool's suit with large black eyes blanketing the face of the helmet and an iconic Deadpool logo on the rear. The Ghost Rider graphic takes on a retro-comic look that makes flames, skulls, and chains cool again. Ghost Rider will be offered on the FG-17, HJC's fiberglass helmet, while Deadpool will be featured on the IS-17 model with an inner, drop-down sunshield. Deadpool will be offered at $299 USD and Ghost Rider will be offered at $309 USD respectively in North America.
"With the success of Captain America, Iron Man, Punisher, Spider-Man and Venom, we thought, why stop there? A number of fans reached out to us for a Deadpool graphic, and the Ghost Rider was just the perfect tenacious, motorcycle riding Marvel Super Hero to add to our lineup." George Hong – President of HJC America, Inc.
Deadpool and Ghost Rider will arrive at authorized HJC dealers around the world in late Spring 2017.
Ghost Rider FG-17 Sizes XS-3XL, DOT & SNELL M2015 Approved.
Deadpool IS-17 XS-2XL DOT Approved.
Official MARVEL licensed products.
© 2017 MARVEL marvel.com